Build. Deploy. Discover.
Overture is a collection of open-source software used to create discovery platforms where researchers manage, share and access genomics data.
Powering big-data at scale
Overture has been successfully deployed in a diversity of large-scale projects.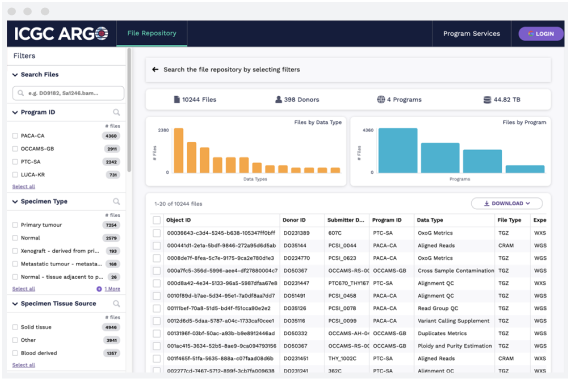 ICGC-ARGO
ICGC-ARGO is collecting genomic and clinical data from 100k cancer patients. With Overture as the backbone for ICGC ARGO's infrastructure, researchers can search and gain authorized access to genomic and clinical data collected from 26 international projects.
Learn More
We are a team of software engineers, data scientists, and cloud infrastructure specialists creating applications that store, manage, and explore massive genomic datasets.
We
are
a
team
of
software
engineers,
data
scientists
and
cloud
infrastructure
specialists
creating
applications
to
store,
manage,
and
share
massive genomic datasets.
About Us
Our Products
Built to be reusable and scalable, Overture was created to share our data science components with the community. Our ecosystem of research software tools reduces redundant efforts and enables the creation of robust genomics data applications.
Our components are well documented, actively supported, and welcome external feedback and contributions. If you need assistance, we also offer consulting, support, and collaborative services.
Overture's components
are
well
documented
actively
supported,
and
welcome
external feedback
and contributions.
If you need
assistance,
we also offer
consulting, support,
and collaborative services.
Getting Started
Ready to jump in? We've got some resources to help.
Build. Deploy. Discover.
Craft tomorrow's data solution, today.